Mandan's Ty Breuer Wins Bareback Riding at Hometown Rodeo
 MANDAN, N.D. (July 4, 2016) —Ty Breuer, one of the top bareback riders in professional rodeo, is a native of Mandan, N.D., home of the 137th annual Mandan Rodeo Days. Breuer qualified for the National Finals Rodeo (NFR) in 2013 and finished just out of the top 20 last year. At the midway point of the 2016 season, he's ranked 13th in the Professional Rodeo Cowboys Association (PRCA) championship standings.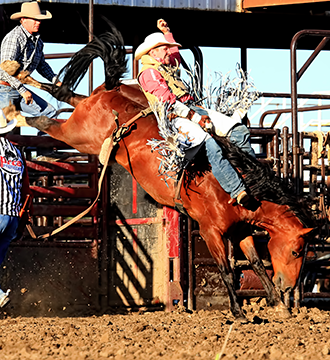 Breuer competed at his hometown rodeo on July 4 and scored 85.5 points on Sankey Rodeo's Sozo. That was three points more than previous leaders, Troy Vaira who won the bareback riding at Mandan in 2014, and Wyoming's Devan Reilly. The win earned Breuer $2,609 and helped his quest to return to Las Vegas in December for his second NFR and a shot at the world championship.
South Dakota cowboy Louie Brunson was the only other cowboy to move into first place during the Independence Day rodeo performance. He took first place and earned nearly $4,000 with an 85.5-point ride in saddle bronc riding. Brunson rode Dakota Rodeo's Bridal Shower.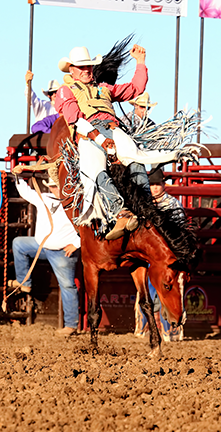 The bull riders were the only contestants who competed twice during Mandan Rodeo Days, but even with two opportunities each, only one cowboy made a qualified ride during the three performances. Mickey Andrews won the first round with 79 points on Dakota Rodeo's Super Cella, July 3. That paid him $3,133. It was also enough to earn him another $3,133 for his total on two rides, giving him total winnings of more than $6,200 at his first professional rodeo.
To close the July 4 rodeo performance, a match saddle bronc riding paying tribute to the North Dakota Six Pack of cowboys who dominated bronc riding in professional rodeo in the 1950s and 1960s. Six cowboys, representing different rodeo associations – Indian Rodeo Association, North Dakota High School Rodeo Association, North Dakota Rodeo Association, Roughrider Rodeo Association, the PRCA Badlands Circuit and Mandan Rodeo Days — competed for a $1,000 bonus. The winner was Quint Stroh, who scored 75 points and represented the Roughriders.
The Mandan rodeo, presented by Dakota Community Bank & Trust, is part of the PRCA's Cowboy Christmas schedule of rodeos across North America during the week of Independence Day. This year's rodeo paid out just under $101,000 in prize money in seven rodeo events. Mandan Rodeo Days is a community-wide celebration held annually July 2-4.
###
Following are the unofficial winners of the 137th annual Mandan Rodeo Days in Mandan, N.D.:
Bareback Riding: 1. Ty Breuer, Mandan, N.D., 85.5 points on Sankey Rodeo's Sozo, $2,609. 2. (tie) Troy Vaira, Richey, Mont., and Devan Reilly, Sheridan, Wyo., 82.5, $1,739 each. 4. Zach Hibler, Wheeler, Texas, 80, $956. 4. Jake Smith, Rapid City, S.D., 76.5, $435. 5. Cole Picton, Marshall, Mo., 77, $609. 6. Jake Smith, Rapid City, S.D., $435. 7. Zach Colston, Mayfield, Ky., 76, $348. 8. Tanner Phipps, Dalton, Ga., $261.
Steer Wrestling: 1. Rowdy Parrott, Mamou, La., 3.6 seconds, $2,697. 2. Kyle Callaway, Blue Creek, Mont., 3.8, $2,413. 3. (tie) Brad Johnson, Reva, S.D.; Rowdy Benson, Morristown, S.D., and Gabe Taylor, Valentine, Neb., 4.0, $1,845. 6. Trever Nelson, Coleman, Okla., 4.1, $1,277. 7. (tie) Tyler Waguespack, Gonzales, La., and Clayton Hass, Terrell, texas, 4.2, $852 each. 9. J.W. Lorenz, Hazen, N.D., 4.4, $426. 10. (tie) Tony Larsen, Sheridan, Wyo., Dru Melvin, Hebron, Neb., and Cameron Morman, Glenullin, N.D., 4.5, $47 each.
Team Roping: 1. Garrett Tonozzi, Fruita, Colo., and Wyatt Cox, Arroyo Grande, Ariz., 4.9 seconds, $2,383 each. 2. Casey Gattis, Junction, Texas, and Kirt Jones, Hobbs, N.M., 5.1, $2,141 each. 3. Dustin Equsquiza, Mariana, Fla., and Clint Summers, Lake City, Fla., 5.4, $1,889 each. 4. (tie) Gene and Clint Harry, Nixon, Nev., and Nathan McWhorter, Telephone, Texas, and Dustin Davis, Terrell, Texas, 5.6, $1,512 each. 6. (tie) Lightning Aguilera, Athens, Texas, and Jett Hillman, Purcell, Okla., and Jason Thorstenson, Rapid City, S.D., and Paul Griemsman, Piedmont, S.D., $1,007.68 each.
Saddle Bronc Riding: 1. Louie Brunson, Interior, S.D., 84.5 points on Dakota Rodeo's Bridal Shower, $3,994. (tie) Taygen Schuelke, Newell, S.D., on Dakota Rodeo's Dunn Gone, and Ty Manke, Hermosa, S.D., on Dakota Rodeo's Pinto Bob, 81 points. 3. J.J. Elshere, Hereford, S.D., 80. 4. James Greeson, Okeechobee, Fla., 79.5.
Tie-down Roping: 1. Matt Peters, Hot Springs, S.D., 8.6 seconds, $2,554. 2. Trinton Downing, Troy, Texas, 9.7, $2,285. 3. (tie) Justin Scofield, Wessington Spring, S.D., Ross Tucker, Archer City, Texas, and Brent Belkham, Blunt, S.D., 10.0, $1,747 each. 6. Ben Robinson, Red Deer County, Alberta, 10.1, $1,210. 7. Clint Kindred, Oral, S.D., 10.2, $941. 8. Jason Vohs, Dickinson, N.D., 10.4, $672. 9. (tie) Joe Schmidt, Belfield, N.D., and Bryson Sechrist, Apache, Okla., $269 each.
Barrel Racing: 1. Jana Griemsman, Piedmont, S.D., 14.65 seconds, $,3919. 2. Tillar Murray, Fort Worth, Texas, 14.75, $3,055. 3. Mary Burger, Pauls Valley, Okla., 14.88, $2,482. 4. Lorie Manning, Myakka City, Fla., 14.89, $1,909. 5. Tiany Schuster, Krum, Texas, $1,527. 6. (tie) Britta Thiel, Belle Fourche, S.D., Cassidy Kruse, Gillette, Wyo., and Lacy Maher, Eagle Butte, S.D., 14.92, $986 each. 9. Michele McLeod, Whitesboro, Texas, 14.93, $764. 10. (tie) Lisa Lockhart, Oelrichs, S.D., and Kristi Steffes, Vale, S.D., 14.94, $620.46. 12. Nicole Laurence, Cresson, Texas, 14.95, $477.28. 13. Victoria Netzer, Sidney, Mont., 14.99 $382. 14. Samantha Jorgenson, Spearfish, S.D., 15.02, $286.37. 15. (tie) Ashley Day, Volborg, Mont., and Wanda Brown, Edgemont, S.D., $95 each.
Bull Riding: First Round (one ride) 1. Mickey Andrews, Weatherford, Okla., 79 points on Dakota Rodeo's Super Cella, $3,133. Second Round (no qualified rides) Total on Two: 1. Andrews, 79, $3,133.
Tribute to the Six Pack Match Bronc Riding winner: Quint Stroh representing Roughrider Rodeo Association, $1,000.
All-Around Cowboy: Brett Belkham, Blunt, S.D. Total purse: $100,993.60
Photo Cutline:
North Dakota's Ty Breuer rode Sankey Rodeo's Sozo for 85.5 points to win his hometown rodeo, Mandan Rodeo Days.  Photo by Jackie Jensen