A Short History of Mandan Rodeo Days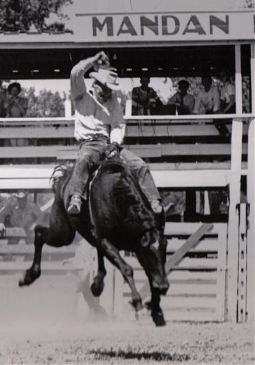 Bareback riding at Mandan in 1949
The Mandan Rodeo is legendary, beginning as a Fourth of July event in 1879 with a baseball game and pony races.
In 1895, the Morton County Fair Association was established, and money was dedicated to building a fence and oval race track in south Mandan.

 As vice-president of the State Fair Association and a prominent horse rancher from Flasher, Stephen P. Weekes was instrumental in the event's development, along with his sons, Steve and Charlie, and his son-in-law, Max Theil, who created the Heart River Roundup, and "Badlands Bill" McCarty joined the effort to create the Mandan Roundup in 1923.
In 1938-39, the rodeo grounds were rebuilt in south Mandan. During the 1940s, the Mandan Rodeo Association, headed by Frank Wetzstein, organized a high-class production where top cowboys like Toots Mansfield, Gene Ross and Casey Tibbs competed and celebrities like Gene Autry and Rex Allen performed. The Mandan Rodeo became famous as part of the "big loop" that included the Cheyenne Frontier Days and the Calgary Stampede allowing cowboys to go from rodeo to rodeo winning money in what's referred to as "Cowboy Christmas" around the 4th of July.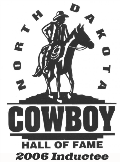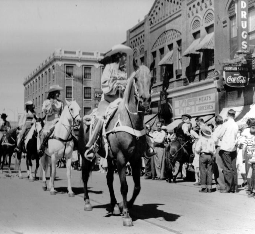 1949 Mandan Rodeo Days Parade
In 1951, an estimated 11,000 people attended the Mandan Rodeo on July 4.
The Mandan American Legion took over the rodeo in 1954. Stock was provided by Buetler-Morgan of Elk City, Oklahoma, and the prize money was increased to $4,500.
After two years, the Legion turned the event over to the Mandan Jaycees. The rodeo became a Rodeo Cowboys Association (now the Professional Rodeo Cowboys Association) 
 sanctioned event until 1969. Stock producers included Buetler-Morgan, Harry Vold and Mike Cervi, and contestants came from all over the country. In 1969, the Jaycees decided to sanction the event with the North Dakota Rodeo Association. 
In the 1970s, stock was provided by Figure Four Rodeo Company of Watford City and by Joe Berger, George Bruington and Jim Mosbrucker, all of Mandan. Prize money by 1980 was more than $20,000.
By the mid-1980s, an aging grandstand needed repair. In 1989, the Mandan Rodeo was the highlight of North Dakota's centennial festivities. It also marked the last performance at the old rodeo grounds.
Today, at Dacotah Centennial Park, the Mandan Rodeo continues to touch the lives and hearts of many over the 4th of July. The rodeo is coordinated by a subcommittee of the Mandan Progress Organization and it is once again a Professional Rodeo Cowboys Association event attracting top cowboys and cowgirls with $42,000 in added prize money made possible with the generous support of local sponsors. The rodeo features chuckwagon racing and a Miss Rodeo Mandan queen and princess pageant.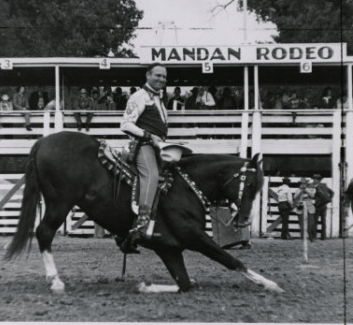 Gene Autry and his horse Champion in 1949
photo courtesy the State Historical Sociey of North Dakota