Casey's Dream Sculpture to be Auctioned at July 4 Rodeo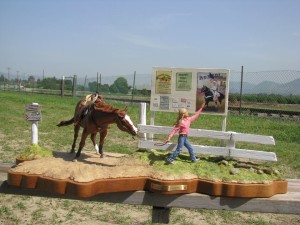 The engaging sculpture"Casey's Dream" by California artist Renae Rushing is on its way to Mandan. It features a young girl and her horse looking intently at a copy of Deb Knuth's painting of Ashley Andrews, who served as Miss Rodeo North Dakota and then won the title of Miss Rodeo USA.
The sculpture is 34″ by 24″ by 13
" and weighs 24 pounds. Rushing has donated her artwork to the Mandan Rodeo Days committee to raise money for arena improvements. The sculpture will be auctioned at the July 4 rodeo performance. Normal retail price for a Rushing piece like this is $1,700.