The Latest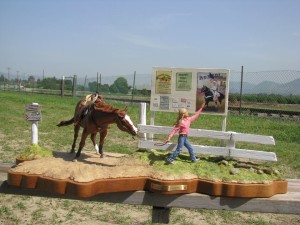 The engaging sculpture"Casey's Dream" by California artist Renae Rushing is on its way to Mandan. It features a young girl and her horse looking intently at a copy of Deb Knuth's painting of Ashley Andrews, who served as Miss Rodeo North Dakota and then won the title of Miss Rodeo USA.
The sculpture is 34″ by 24″ by 13
" and weighs 24 pounds. Rushing has donated her artwork to the Mandan Rodeo Days committee to raise money for arena improvements. The sculpture will be auctioned at the July 4 rodeo performance. Normal retail price for a Rushing piece like this is $1,700.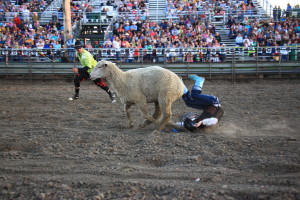 Entries for the Mutton Busting at the 2015 rodeo are full and no more entries will be taken. We're excited to watch the youngsters who have entered try their hand at sheep riding during the rodeo.
Mandan rodeo days Coloring Contest is back for kids ages 12 and under. There are three ways to win.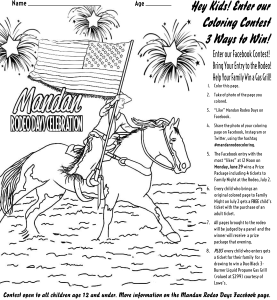 Facebook contest: Print out the page and color it, then post it to our Facebook page, Instagram or Twitter using the hashtag #MandanRodeocoloring. The entry with the most likes at 12 noon on Monday, June 29 receives a prize package including a family four-pack of tickets to the rodeo.
Rodeo contest: Bring your original, colored page to the rodeo on July 2 and receive a free rodeo ticket when accompanied by a paying adult. All entries at the rodeo will be judged and the winner will receive a prize package.
Family Prize: All entries at the rodeo will also be entered into a drawing to win the Family Prize Package – a Duo Black 3-Burner Liquid Propane Gas Grill ($299 value) from Lowe's.
Mutton Bu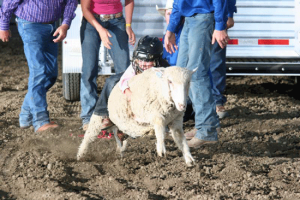 sting entries for the 2014 entries are open now until all available positions are filled. Ten contestants, age 6 and younger and weighing no more than 60 pounds, are accepted each night.
All entries are taken by EMAIL only. Click here to ENTER by emailing your child's name and age. You'll receive a waiver form which must be completed, signed by the parents and returned before your child's entry is confirmed. July 2 Mutton Bustin' entries are now full, but entries are still open for July 3 and 4. 
Mutton busting contestants should wear western attire including jeans, boots and a long-sleeved shirt. Protective helmets and vests are required and will be provided. Each child who participates receives a prize.
Activities at Dacotah Centennial Park for the 136th Mandan Rodeo Days Celebration will kick off with a concert by country artist Jessica Lynn.
Lynn, who was recently featured on PBS, will perform at 8 p.m. on Wednesday, July 1. The concert is open to the public, following the invitation-only Sponsor Dinner earlier that evening.
Tickets are $10 each and are available at the gate. Admission to the concert area begins at 7:30 p.m. July 1.
Entry will be at the north "contestant gate" of the park.
Mandan's Art in the Park Festival, a tradition for more than 40 years on July 3-4, now has its own website. For details on this year's festival visit ArtintheParkND.com.
A coronation party for Danielle Taylor, Miss Rodeo North Dakota 2015 and Miss Rodeo Mandan 2014, was held in January. Taylor will represent professional rodeo in North Dakota this year and will compete in the Miss Rodeo America pageant in December in Las Vegas, Nev., during the National Finals Rodeo.