Troy Vaira Aims for Second Mandan Rodeo Bareback Win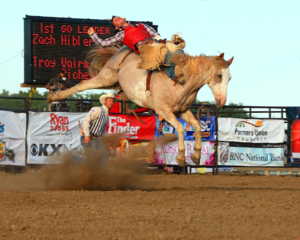 Troy Vaira was aiming for history to repeat itself at the opening performance of the 137th Mandan Rodeo Days, and he nearly succeeded. The cowboy, who calls Richey, Mont., home, was the bareback riding champion at this rodeo in 2014.
This year he drew the same bucking horse that he rode to first place two years ago, Dakota Rodeo's Bartender. The big yellow gelding is one of the country's top bucking horses and has been selected for pro rodeo's world championship, the National Finals Rodeo several times.
Vaira scored 82 points to take the 2016 bareback riding lead by two and a half points. He comes from a big rodeo family that owns a rodeo stock contracting company and about 300 bucking horses, which gives him plenty of opportunity to practice.
"I've only been on this horse twice, both here in Mandan," Vaira said, as he accepted his $100 bonus in the Ryan Dodge Winner's Circle following his ride. He knows that if he can keep the lead through the final performance Monday night, he'll take home a chunk of the $100,000+ prize money.
Saturday was also a good day for the Griemsman family of Piedmont, S.D. Jana Griemsman bested more than 100 competitors in Saturday morning's slack competition of barrel racing and leads the event by a tenth of a second with just 24 left to compete during the next two performances.
Since barrel racing drew nearly 140 entries, its purse will be the biggest of this year's rodeo. Griemsman rode an eight-year-old horse she and her family raised and trained. She also won the Mandan Rodeo in 2010, riding a different horse.
Her husband Paul competed in team roping, heeling for header Jason Thorstenson of Rapid City, S.D. Their time of 5.7 seconds is in third place, behind leaders Texan Casey Gattis and New Mexico's Kirt Jones who stopped the clock in 5.1 seconds.
Unofficial leaders following Saturday night's competition at the 137th annual Mandan Rodeo Days in Mandan, N.D.:
Bareback Riding: (three rides)1. Troy Vaira, Richey, Mont., 82.5 points on Dakota Rodeo's Bartender. 2. Zach Hibler, Wheeler, Texas, 80. 3. Jake Springer, Stephenville, Texas, 64.5.
Steer Wrestling: 1. (tie) Brad Johnson, Reva, S.D.; Rowdy Benson, Morristown, S.D., and Gabe Taylor, Valentine, Neb., 4.0 seconds. 2. J.W. Lorenz, Hazen, N.D., 4.4. 4. Dru Melvin, Hebron, Neb., 4.5.
Team Roping: 1. Casey Gattis, Junction, Texas, and Kirt Jones, Hobbs, N.M., 5.1 seconds. 2. Dustin Equsquiza, Mariana, Fla., and Clint Summers, Lake City, Fla., 5.4. 3. Jason Thorstenson, Rapid City, S.D., and Paul Griemsman, Piedmont, S.D., 5.7. 4. Reece Weber, Valentine, Neb., and Ty Talsma, Verdigre, Neb., 5.9.
Saddle Bronc Riding: 1. Ty Manke, Hermosa, S.D., 81 points on Dakota Rodeo's Pinto Bob. 2. J.J. Elshere, Hereford, S.D., 80. 3. James Greeson, Okeechobee, Fla., 79.5. 4. Garrett Aldridge, Huntsville, Texas, 78.
Tie-down Roping: 1. Matt Peters, Hot Springs, S.D., 8.6 seconds. 2. Trinton Downing, Troy, Texas, 9.7. 3. (tie) Justin Scofield, Wessington Spring, S.D., Ross Tucker, Archer City, Texas, and Brent Belkham, Blunt, S.D., 10.0.
Barrel Racing: 1. Jana Griemsman, Piedmont, S.D., 14.65 seconds. 2. Tillar Murray, Fort Worth, Texas, 14.75. 3, Mary Burger, Pauls Valley, Okla., 14.88. 4, Lorie Manning, Myakka City, Fla., 14.89.
Bull Riding: No qualified rides.