Mutton Busting Entries are Now Open
Mutton Bu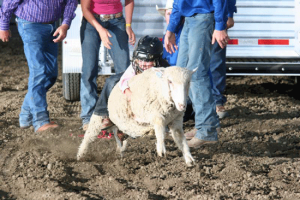 sting entries for the 2014 entries are open now until all available positions are filled. Ten contestants, age 6 and younger and weighing no more than 60 pounds, are accepted each night.
All entries are taken by EMAIL only. Click here to ENTER by emailing your child's name and age. You'll receive a waiver form which must be completed, signed by the parents and returned before your child's entry is confirmed. July 2 Mutton Bustin' entries are now full, but entries are still open for July 3 and 4. 
Mutton busting contestants should wear western attire including jeans, boots and a long-sleeved shirt. Protective helmets and vests are required and will be provided. Each child who participates receives a prize.