Justin Rumford brings his comedy talent to Mandan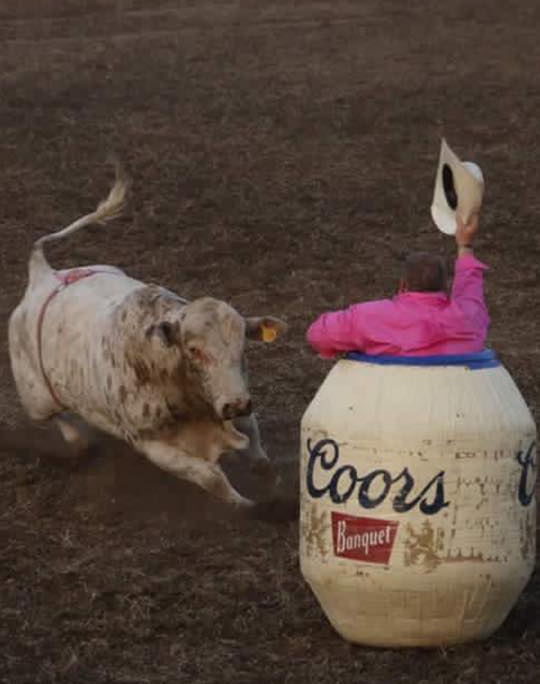 For many people, hiding inside an aluminum barrel while a 1,600-pound bull slams into it would be a nightmare. To Justin "Rumpshaker" Rumford, "it's pretty fun," and "not as bad as it looks."
Rumford, 37, is one of the top professional rodeo clowns in North America. He's been named PRCA Clown of the Year five times – including in 2017 – and has worked some of the most prestigious rodeos including the National Finals Rodeo, College National Finals Rodeo and the National Western Livestock Show and Rodeo in Denver.
He travels 11 months out of the year — or as he describes it "paid vacation" — performing hundreds of shows at rodeos around the country.
Rumford grew up in a rodeo and ranching family in Abbyville, "a little bitty town" in Kansas. His grandfather, Floyd Rumford, founded Rumford Rodeo Co., a Kansas tradition for more than half a century.
His father continues that legacy as a co-owner of New Frontier Rodeo, his sister is an eight-time pro rodeo secretary of the year and his brother is an expert roper.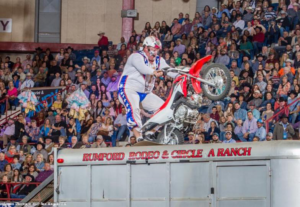 While bullfighters take on the primary responsibility of protecting bull riders in the arena, "the barrel is kind of the last line of defense," Rumford said. "My main job is to entertain the crowd, just to keep the show flowing and keep them having a good time."
Rumford, whose job is to entertain during lulls in the arena action, relies on a few recurring comedy bits but improvises much of his routine based on the crowd.
The motorcycle in his comedy act is built for a child and his Evel Knievel jumpsuit is designed, perhaps, for a person a third his size. He uses a folding table as a launch ramp. Other acts include Rumford as a gorilla hunter and as Spiderman.
Justin competed in junior high, high school and college rodeo and was starting a promising professional career when he blew out his knee. He was working as part of the livestock transportation and tending crew when his comedy career began at a bull riding in Pretty Prairie, Kansas, after another rodeo clown backed out of a show shortly before it began. Rumford's rodeo background and his personality were a natural fit as a rodeo clown.
He took quickly to roping fans into the show and poking fun at his own stocky build. He made $1,000 that night (a big boost from the $800 a week he earned on the livestock crew) and was hooked. He hit the road — with his wife Ashley, a former Miss Rodeo Oklahoma — as a full-time professional rodeo clown.
In 2013 Justin and Ashley welcomed triplets -daughters Livi and Lola and son Bandy. The family travels in a 44-foot trailer to rodeos across the country and make their home in Ponca City, Oklahoma, when not on the road.
As Rumford told the Wall Street Journal a couple of years ago,"(being a rodeo clown) is the most awesome job. I work for myself, the pay is great and you get to pick where you go." Mandan rodeo fans will be glad he picked North Dakota's oldest rodeo this year.