Click here to meet this year's queen & princess contestants.
Tatyanna Tibke 
Miss Rodeo Mandan
Tatyanna Tibke was crowned Miss Rodeo Mandan 2017, in front of one of the largest rodeo crowds in North Dakota on July 4, 2016, during the Mandan Rodeo Days celebration. Tatyanna also took top honors in the appearance category.
A home grown North Dakotan, Tatyanna grew up on her parents' (Shawn and Rebecca Tibke) farm outside of Wilton. Tatyanna, 21, was a 2013 honors graduate of Washburn High School and has attended Bismarck State College working towards her associate's degree in business management. She is currently working as a customer service representative in the banking industry.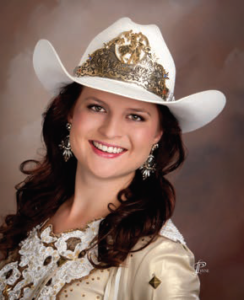 As a young girl, she fell in love with horses. By the age of 14, she had earned enough money from working to buy her first American Quarter Horse and now she has three horses of her own. She is currently breaking and training a two-year-old filly.
Tatyanna is motivated by the quote, "while most are dreaming of success, winners wake-up and work hard to achieve it."
She is an active member with Triple R Horse Club in Edgeley, N.D. , Richardton Saddle Club, and Wing Horse Club. When she is not traveling to rodeos and competing in barrel racing jackpots, Tatyanna enjoys the outdoors, goes for trail rides, spends time with friends and family, and decorates cakes.
Tatyanna is serving as an ambassador for the sport of rodeo and Mandan Rodeo Days in 2016-2017. She is happy to work with rodeo committees, stock contractors, the media and all of the fans who make this sport possible. Click here to download Tatyanna's autograph sheet.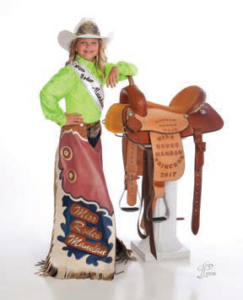 Faith Scott
Miss Rodeo Mandan Princess
On July 4, 2016, Faith Scott was crowned Miss Mandan Rodeo Princess as the community gatheredto celebrate Independence Day at the legendary Mandan Rodeo. She drew the attention of the judges and audience as she competed and earned awards in the categories of horsemanship, personality, and appearance.
Faith was born in Cottonwood, Arizona, in 2006 where her family was active in agriculture, cattle trucking and dairy farming. They moved to North Dakota in 2011 and cannot get enough of the country life the great state of North Dakota provides. Her parents are Ben and Elisha Scott of Wing.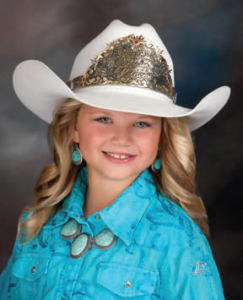 A third grade student at Wing Public School, she enjoys riding horses, barrel racing, team roping, hunting and fishing, family activities, volunteering in the community, serving at church, and being part of the Wing Horse Club. She is often traveling with her family to team roping events and rodeos when not in school.
Faith feels a strong call to influence people through platforms she is given in the community and state to continue a healthy way of life through the promotion of faith-based living, rodeo and agriculture. She is proud to represent Mandan Rodeo Days this year as Miss Rodeo Mandan Princess and dreams of a career in veterinary medicine, team roping in the National Finals Rodeo and competing for the title of Miss Rodeo America in the future. Click here to download Faith's autograph sheet.
Tibke and Scott participate in speaking engagements on behalf of the Mandan Rodeo Committee, to assist at regional rodeos and to teach youth about the sport of rodeo and activities offered during the 2017 Mandan Rodeo Days. Tibke will compete for Miss Rodeo North Dakota in October 2017.