Specialty Act Old
Specialty Performer Jerry Wayne Olson
Jerry Wayne Olson of Auburn, Neb.,  is a third-generation performer. His grandfather trained the first American Bison to be ridden and to perform for a crowd. His father, Jerry Sr., also trained buffalo and created a high-speed roman riding act.
This background provided Jerry with the tools to continue the family tradition of providing original, riviting act for spectators of all ages.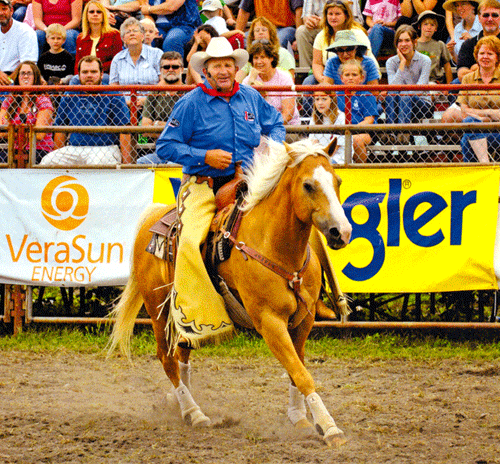 Jerry Wayne riding Justin Boots (JB) without a bridle
Justin Boots, with Jerry Wayne Olson aboard, enters the arena at a gallop – without halter or bridle. The pair execute figure eights, backs and spins, then Olson dismounts and unsaddles. The beautiful Palomino, completely free of rider, bridle and saddle, then executes maneuvers usually possible only when riding a horse with full gear. Using only voice and visual commands, Jerry Wayne puts JB through his paces including a formal bow. The many hours of training and bonding are evident when watching Jerry Wayne and JB perform. When they exit the arena, a white Ram pickup enters the arena, Jerry gives the command and JB breaks into a hard gallop and leaps in full stride into the moving truck box. Spectators across North America continue to be in awe while watching this beautiful horse perform with complete trust in his owner, responding only to visual and voice commands. Jerry Wayne has  appeared at Madison Square Garden and at many other elite entertainment venues. He's won the PRCA Specialty Act of the Year award and performed several times at the Wrangler National Finals Rodeo.