Kids' Stuff
The Mandan Rodeo Days Celebration includes activities for kids of all ages. Plan to join the fun!
Rodeo Kids' Activities
Family  Night – July 2
5 p.m. Townsquare Radio Rodeo Feed (free with rodeo ticket.) Includes a money scramble in the straw, face painting, stick horse barrel racing, dummy roping and other kids' activities. Enter the "Dress Like A Rodeo Clown" contest.
At  the gate ONLY – Receive $2 off a child's rodeo ticket with purchase of an adult ticket. (Children under age 6 admitted free with a paying adult.)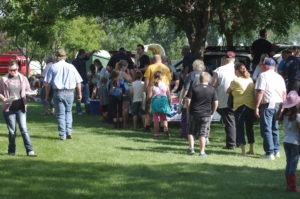 Mutton Busting – July 2-3-4
Young cowboys and cowgirls try to ride sheep and win trophies in the Mutton Busting contest at each rodeo performance. Ten contestants, ages 4 to 7 and weighing no more than 60 pounds, are accepted each night.
This year radio station KQ94.5 will be handling the registration. Parents may register their child online for the July 2 and 3 mutton busting at the KQ94.5 facebook page beginning Monday, June 6. A random draw will determine which children are allowed to ride. Listen to KQ 94.5 with Ginger G and Jay Dylan for a chance to register your child for July 4 mutton busting beginning June 6.  ENTRIES OPEN JUNE 6.
Mutton busting contestants should wear western attire including jeans, boots and a long-sleeved shirt. Protective helmets and vests are required and will be provided. Parents of mutton busting contestants must also sign a liability waiver.
  Mutton Busting Sponsor
Main Street Kids' Activities
Downtown activities take place in and around Main Street during all three days.
Barrel Train Rides

Free

Covered Wagon Rides

P

ony Rides

Doll & Pet Parade for kids 11 and under


Mighty Thomas Carnival

Children's Band at Art in the Park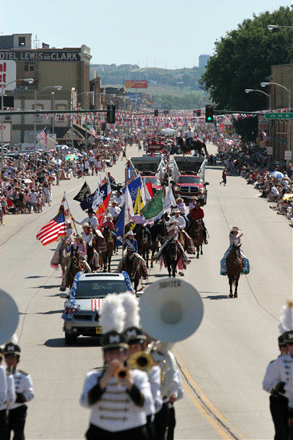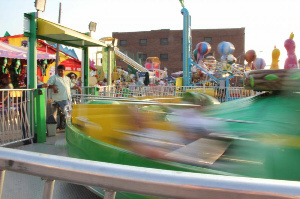 July 4 ONLY
Pancake Breakfast
Street Festival
Classic Car Parade
Independence Day Parade
Old West Re-enactors
Huge Fireworks Display following Rodeo
Sponsor logos