Kids' Stuff
The Mandan Rodeo Days Celebration includes activities for kids of all ages. Plan to join the fun!
Rodeo Kids' Activities
Family  Night – July 2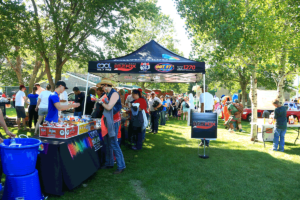 5 p.m. Townsquare Radio Rodeo Feed (free with rodeo ticket.) Includes a money scramble in the straw, barrel train rides, stick horse barrel racing, dummy roping and other kids' activities. Kids may wear their best clown costume and enter the "Just Clowning Around" contest.
At the gate ONLY – Receive $2 off a child's rodeo ticket with the purchase of an adult ticket. (Children under age 6 admitted free with a paying adult.)
Mutton Busting – July 2-3-4
Young cowboys and cowgirls try to ride sheep and win trophies in the Mutton Busting contest at each rodeo performance. Ten contestants, ages 4 to 7 and weighing no more than 60 pounds, are accepted each night.
Radio station KQ 94.5 will be signing up the mutton busters this year. Registration opens Monday, June 12 and is on a first-come, first-served basis. Parents must be the ones to sign up their children. Entries close as soon as the 10 slots per rodeo performance are filled
Go to 3500 East Rosser Ave Bismarck starting June 12 to register your kids.
Mutton busting contestants should wear western attire including jeans, boots and a long-sleeved shirt. Protective helmets and vests are required and will be provided. Parents of mutton busting contestants must also sign a liability waiver.
  Mutton Busting Sponsor
Main Street Kids' Activities
Downtown activities take place in and around Main Street during all three days.