Hats Off to Our Sponsors!
If you are interested in becoming a sponsor of the Mandan PRCA Rodeo, please contact 
Del Wetsch at 701-220-2959.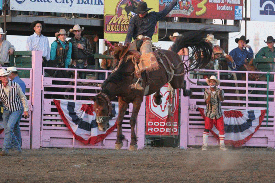 The saddle bronc riding sponsor is Circle Diamond Ranch Supply of Mandan.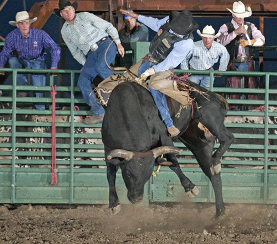 First International Bank & Trust sponsors the bull riding.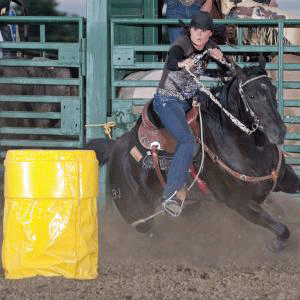 Barrel racing is sponsored by West Dakota Fox 26-TV.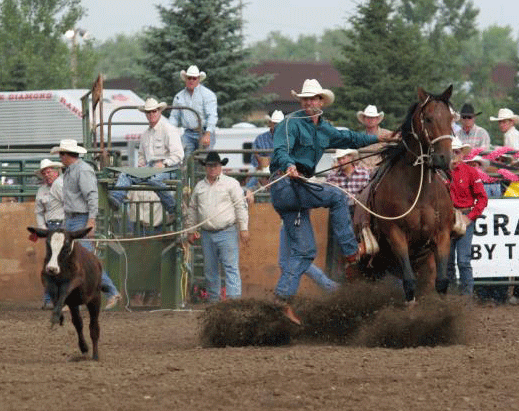 Western Edge Electric sponsors the tie-down roping.
National Sponsors
Dodge Trucks
Wrangler
Supporting Level Sponsors
Townsquare Media
iHeart Media
Capital Credit Union
Bobcat of Mandan
Copper Springs Ranch
City of Mandan
Butler Machinery
Dakota Sanitation
Pahlke Steel & Rod
Pendleton Whiskey Republic
Lillis Electric
Lonesome Dove
RDO Truck Center
Rud Oil & Propane Co.
Captain Jack's Liquorland
Wells Fargo Bank
United Printing
Art in the Park
Sam's Club
Lowe's
Famous Dave's
Rud Oil & Propane
McDonalds
Newman Signs
Wells Fargo Banks
Westley's Jewelry
Contributing Level Sponsors
Advanced Business Methods
Bek Communications
Boot Barn
Dakota Caulking
Diversity Homes
Electric Systems
Fastenal
Johnson Wrecking
Kist Livestock
KLJ
Leggette, Brashears & Graham
Mahlum Goodhart, CPA
Metro Ambulance
Northern Plains Heating & Air
OK Tire Company
RDO Equipment
Red Trail Petro
Schlosser Excavating
TriHydro
Toman Engineering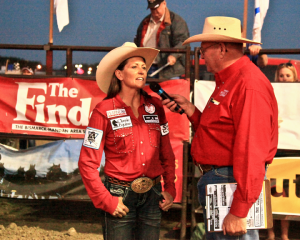 In-arena interview, like this one with Lisa Lockhart and Joe LaDuke, is part of the Eide Chrysler Winner's Circle.
2017 Sponsors
Presenting Sponsor
Dakota Community Bank & Trust
Corporate & Night Sponsors
Eide Chrysler
Action Motor Sports
Northern Plains Equipment
Ressler Siding & Windows
Sunsetter Awnings
Cloverdale Meats
Baymont Inn & Suites
4 Bears Casino
Cooper Tire
Sanford Health
Diamond Willow Energy LLC
Tee Bench Inc.
Major Level – Chute & Gate Sponsors
Petro Serve USA
American Bank Center
Farmers Union Insurance
Dakota Community Bank & Trust
Gate City Bank
Coors – Jerome Distributing
KFYR TV
L & H Branding Irons
Railway Credit Union
Starion Bank
Security First Bank
Sanford Health
Event Level Sponsors
Ressler Siding & Windows – Bareback Riding
Western Edge Electric – Tie-Down Roping
First International Bank & Trust- Bull Riding
West Dakota Fox – Barrel Racing
Circle Diamond Ranch Supply – Saddle Bronc
BisMan Online – Steer Wrestling
Montana-Dakota Utilities – Team Roping
Specialty Acts & Activities
Burlington Northern Santa Fe Railway – Fireworks
Eide Chrysler – Speaker Covers & Committee Shirts
Cooper Tires – Rodeo Announcer Tim Fuller
KXMB TV – Chuckwagon Racing
Edgewood Vista, Mandan – Fireworks July 3
Farm Credit Services of Mandan – Specialty Act Kyzer Stoddard
Dan's SuperMarkets – Sponsor Hospitality
RJR Maintenance & Management – Replay Board
Moritz Sport & Marine – Timed Event Chute
Leingang Home Center – Bullfighter
Double HH Guns – Bullfighter
Touchstone Energy – Children's Events
The Trailer Store of ND/Big Tex Trailers – Mutton Busting
The Finder/Mandan News – Rodeo Program Tabloid
Dakota Farms Restaurant – Rodeo Day Sheets
BNC National Bank – flags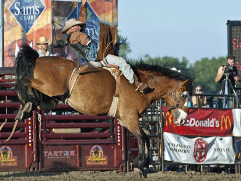 Bareback riding is sponsored by Ressler Siding & Window.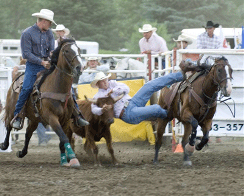 BisMan Online sponsors the steer wrestling event.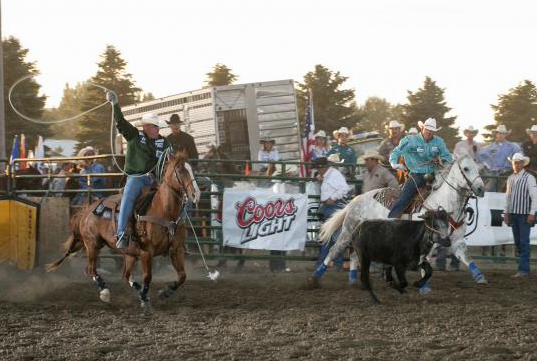 Montana-Dakota Utilities sponsors the team roping.
Donor Level Sponsors
Keller Insurance Services
Kelsch, Kelsch, Ruff & Kranda Law Firm
Twin City Roofing
Midway Lanes
American Family Insurance – Terry Kraft
XL Homes
Schlomer Construction
Brown & Saenger
Open Road Honda
Sewing Machines Plus!
The Silver Dollar Bar
Imagine Home Center
Pepsi
True North Steel
Northern Trophy and Silk Screening
Red Carpet Carwash
Sign Pro
Twin City Roofing
Northern Improvement
Jake's Auto Glass
North Dakota Guaranty & Title
Scooter Shack
Stagestop Liquors
Powerhouse/501 Bar & Grill
Runnings Farm & Fleet
Dutton's Portable Welding
Nightlife Music
Open Road Honda
Prairie Rose Dentists
True North Steel
Hubbard Feeds
Riverwood RV
State Farm Insurance – Roy Skytland Agency
Trans Trash
Western Steel