Stock Contractor
Dakota Rodeo Company Produces Mandan Rodeo
Best Bulls…best horses – that's how the Dakota Rodeo Company was born. Chad Berger had the bulls; Joe Simon had the horses and they both wanted the best rodeo company going down the road so they teamed up in 2006 forming Dakota Rodeo Company.
The resulting rodeo company is nothing short of spectacular! Some of the rankest bucking stock in the rodeo world today make up the Dakota Rodeo's "A" team. These bulls and horses have made their way along the rodeo trail stopping at many of the biggest, most prestigious rodeos and bull ridings in the country from California to many stops in the Midwest and East Coast including the NFR in Las Vegas. They have left many cowboys dusting off their britches and hoping for another try on one of Dakota Rodeo's animal athletes. Over the top productions combined with the superior quality of the livestock makes for world-class entertainment that is unsurpassed.
The horse guy of the team, Joe Simon, comes from a family of horseman renown for their knowledge and success in the horse world. Joe ventured into bucking horses almost 30 years ago and has been a member of the Professional Rodeo  Cowboys Association for over 25 years.
Joe has bought or bred some of the best bucking horses in the rodeo business. His stud Blue Eyes has made a name for himself with his offspring consistently winning bucking horse futurities and topping bucking stock sales. Blue Eyes' genetics are some of the most sought after in the bucking horse world today.
Chad Berger, the bull guy, came from a family of cattlemen. Raised in Mandan, N..D, Chad, his father Joe and brother Nevada have long been a family associated with outstanding bucking bulls. In fact, Joe Berger was the stock contractor for the Mandan Rodeo in the 1970s. Chad has been a stock contractor for almost 15 years in the PBR and with the help of daughter Lacey and son John, has to his credit four Contractor of the Year awards.  Bulls like Big Tex, Smack Down and Code Blue, to name just a few, have called Chad Berger's place just outside Mandan home.
Bubel Cattle Company Provides Timed Event Cattle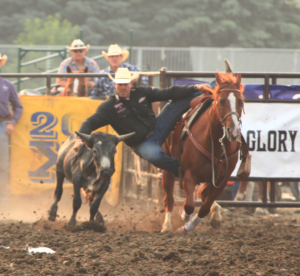 A rodeo like Mandan Rodeo Days also requires quality steers and calves for the roping and steer wrestling contests. Bubel Cattle Company of Center, N.D., will again provide these animals for our rodeo.
Howard, Diane, JD & Sara Bubel have worked very hard at building a reputation for bringing quality timed event cattle to rodeos across the northern plains. Their cattle give each competitor a chance to win a share of the rodeo prize money.