Collect Commemorative Posters from Previous Years
Posters available at the Mandan Progress Organization, 411 W Main Street, phone 751-2983. $5 each
2014 135th Anniversary Poster featuring Gerald Roberts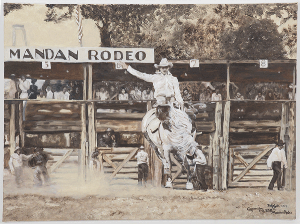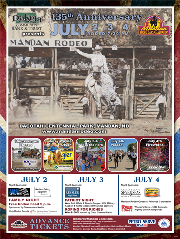 An original 18″ x 24″ oil painting by artist Deb Knuth (left) is the basis for the 2014 commemorative poster (right) which celebrates the 135th Mandan Rodeo Days . The subject is Gerald Roberts, one of the original inducees into the Rodeo Hall of Fame in 1965.  Roberts, the 1942 and 1948 World Champion All-Around Cowboy, competed in all three rough stock events. He was also a Hollywood stunt man in the 1950s, the heyday of American western films.
2013 Poster featuring Bullfighter Josh Rivinus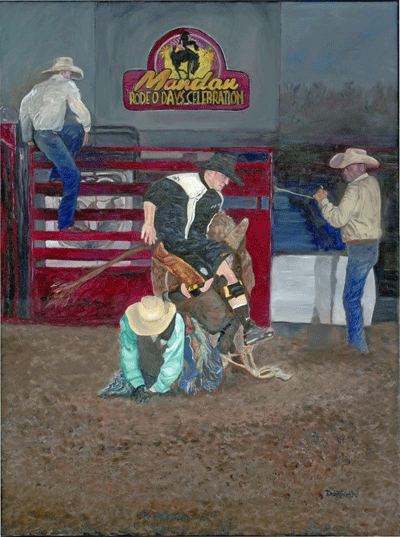 The Mandan Rodeo Days publicity poster for 2013 honors Elgin, N.D., professional rodeo bullfighter Josh Rivinius, who was selected this spring to protect bull riders from cantankerous bulls at the Ram National Circuit Finals in Oklahoma City. Rivinius has been bullfighting in Mandan since 2002 and a near constant pick for the Badlands Circuit Finals for top Dakota cowboys since 2004.
The Mandan Rodeo poster featuring Rivinius is the 10th in a series of prints highlighting memories, notable contestants, contract personnel, and featured events of the longstanding Fourth of July celebration.
The 2013 Mandan Rodeo poster features original artwork of Deb Knuth.
2009 Poster features Chuckwagon Racing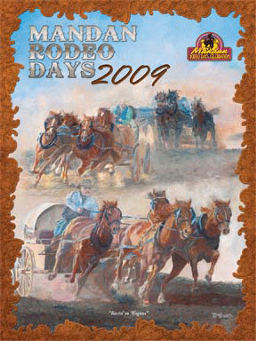 The 2009 poster, titled "Racing in Wagons," showcases a crowd favorite from the Mandan Rodeo — the chuckwagon racing. Limited edition poster prints of the original oil painting by artist Deb Knuth of Wilton.
Chuckwagon racing has been bringing Mandan Rodeo fans to their feet since 1997. The event has its roots in the history of the old west. At the end of the week, cowboys in the area would meet up and head to town for some entertainment. The last one to town would have to buy the first round at the local saloon. A fast team and efficient packing were important and still are in today's races.
2007 Poster features famous bucking bull Little Yellow Jacket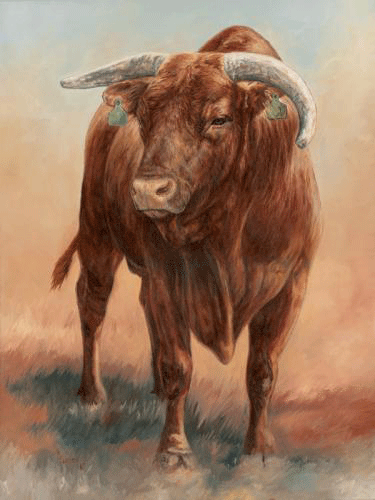 Little Yellow Jacket from the Berger Ranch near Mandan was inducted into the N.D. Cowboy Hall of Fame in 2006. Little Yellow Jacket is not only the most famous bull in the state, but one of the most famous bucking bulls in history.
He was the Professional Bullriders Association (PBR) World Champion Bull for three years running (2002, 2003 and 2004). He was retired and moved back to the ranch near Mandan, while his offspring are currently making their mark in the world of professional bull riding.[/one_half]
[one_half_last]
2010 Poster features Pickup Man Jim Wilson
The Mandan Rodeo's 2010 publicity poster features pickup man Jim Wilson of Alzada, Montana.
He has been helping bareback and bronc riders to safety at the Mandan Rodeo for approximately 15 years. He has worked every level of rodeo from youth to high school, college, amateur and professional rodeos in the five-state area of North and South Dakota, Montana, Wyoming and Nebraska.
The poster features original artwork of Deb Knuth titled "Bringing the Safety Net—Jim Wilson, Pickup Man."

2008 Poster features North Dakota's Miss Rodeo America
North Dakota cowgirl Ashley Andrews was Miss Rodeo America 2007. She served as Miss Rodeo Mandan in 2005 before winning the state title in 2006.
During her reign as Miss Rodeo North Dakota, she was diagnosed with Hodgkins Lymphoma. After receiving six months of chemotherapy treatment she was given a clean bill of health to compete at the Miss Rodeo America Pageant.
As Miss Rodeo America, Ashley traveled more than 100,000 miles and appeared at over 100 rodeos during 2007.
In January 2008, she was hired as Executive Director of the Bowman County Development Corporation in her hometown of Bowman, N.D.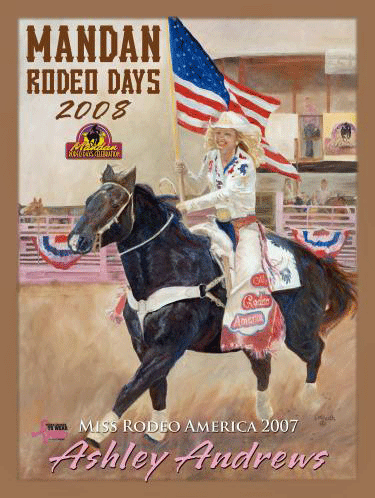 2006 Poster features World Champion Bareback Rider Wayne Herman
World Champion Bareback Rider Wayne Herman, a Golden Valley, N.D., native, was the subject of the 2006 commemorative poster by artist Kaye Burian.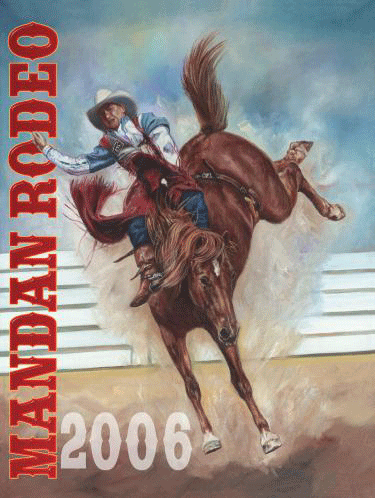 Other posters feature four-time World Champion Saddle Bronc Rider Brad Gjermundson of Marshall, N.D., and 1957 World Champion Saddle Bronc Rider Alvin Nelson of Grassy Butte, N.D.
The 2012  posters, featuring Mandan's bareback riding brothers Ty and Casey Breuer, and the 2011 posters, featuring Solen native (and former Mandan resident) barrel racer  Britany Fleck Diaz, are out of supply.[/one_half_last]