The pickup men are responsible for the safety of the cowboys who ride bareback and saddle broncs.
The job description sounds simple – help the cowboy off the bucking horse and to the ground. As soon as the buzzer sounds, the pickup men ride alongside the bucking horse. One positions his horse so the cowboy can grab his waist and safely transfer from the bucking horse. If the horse is a saddle bronc, the pickup man wraps the rein around his saddle horn to control the bronc. The other pickup man positions his horse on the opposite side to help maneuver the bucking horse into position.
A more dangerous rescue happens when a cowboy is tangled (hung up) in his equipment and the pickup men must free the cowboy to prevent injury to both him and the horse.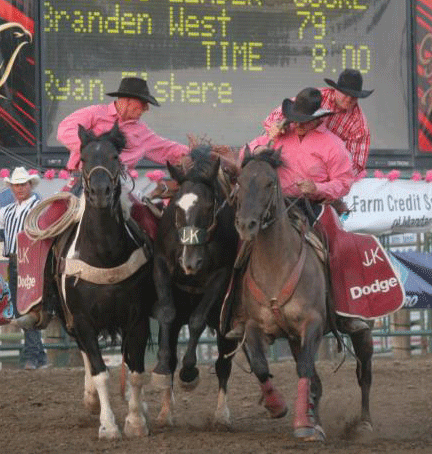 Joe Blankenship, Dickinson, N.D.
Brandon Hatzenbuhler
Timers
Darla Kelley, Ashland, Mo.
Penny Walton, Billings, Mont.
Announcer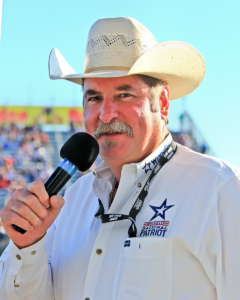 Tim Fuller of Ramona, Oklahoma, continues as the voice of the Mandan Rodeo. Fuller has more than two decades of professional rodeo announcing experience. In 2010, he was selected by In Country TV to serve on its all-star broadcast team for coverage of Professional Rodeo Cowboys Association events including eight Gold rodeos on the Wrangler Million Dollar Tour.
His other announcing successes include the National Circuit Finals Rodeo, Prairie Circuit Finals, the Women's National Finals, Turquoise Circuit Finals, and the National High School Finals Rodeo. He has also served as master of ceremonies for the Miss Rodeo America Pageant and farm shows in Oklahoma, Texas and Kansas.
Fuller is a former rodeo competitor in the bareback riding, team roping and steer wrestling as well as a military veteran. At the 2016 Mandan Rodeo, the crowd raised $2,200 for veterans' charities in order to see Fuller jump in a huge mud puddle at the end of the Patriot Night performance on July 2.
Judges
Tom Peterson
Gary Case
Royd Doyal

Secretary
Penny Walton, Billings, Mont.