Whiplash, the cowboy monkey, to entertain at Mandan Rodeo Days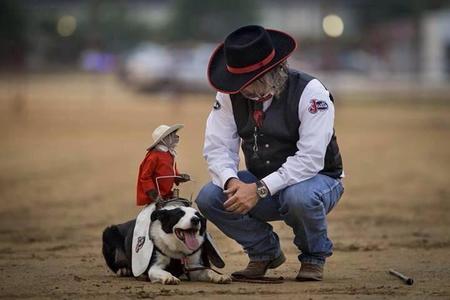 Mandan Rodeo Days audiences will get to meet Whiplash, the world's smallest cowboy, three-time Pro Rodeo Entertainer of the Year, and an international star who has been bringing smiles to the faces of the young, old and in-between for many years.
Standing three feet tall and weighing seven pounds, this capuchin monkey is a crowd favorite that travels the country, herding Barbados sheep at rodeos and other events. Whiplash, dressed in his cowboy hat, silk scarf, chaps and Justin Boots, shows his skills and cowboy spirit as he rides his trusty border collie mount, Boogie.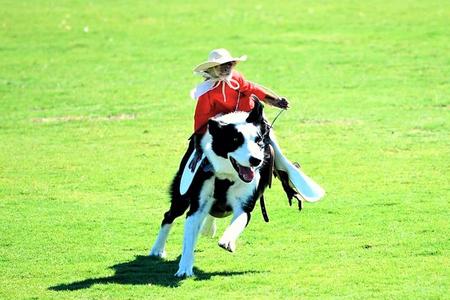 Whiplash has entertained crowds at rodeos, ball games and events all across North America and Europe. He has starred in a series of television advertisements for the fast food chain Taco Johns and appeared on numerous commercials, ESPN, "Good Morning America" and "The Today Show."
Long-time PRCA member, Kenny Petet of Stephenville, Texas, travels with Whiplash and Boogie. "Whiplash is really more like part of the family, with his big personality and diva-like charm," said Petet.
Petet, who grew up in Idaho, began his rodeo career as a bronc rider and moved into bullfighting and rodeo comedy a few years later. He has also worked as a pickup man and livestock handler for some of the top rodeo stock contractors in the country. Petet found his niche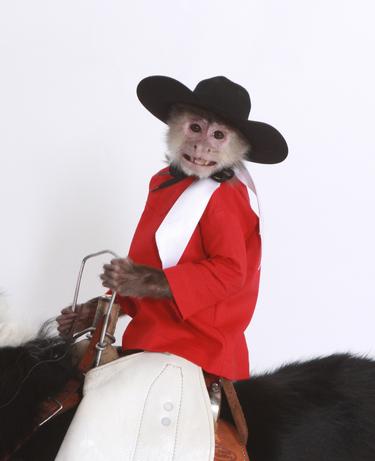 in rodeo entertainment, including providing chuckwagon races for Toughest Cowboy Tour and as a production assistant at the National Finals Rodeo.
Legendary rodeo entertainer Tommy Lucia introduced Whiplash to rodeo audiences after the monkey began riding at age two. After Lucia's retirement, Whiplash joined Petet's western entertainment offerings.
"Whiplash likes watching TV westerns and playing catch.  His favorite snacks are grapes, Oreos and his bed-time peanut butter and jelly sandwich. He is playful and flirts with the ladies, but is serious about his job. There is nothing he loves more than riding Boogie," Petet said.
More than seven million have viewed Whiplash's videos on YouTube. He has more than 15,000 fans on Facebook and is also on Instagram and Twitter.