Kyzer Stoddard Brings Daredevil Riding Back to Mandan
Kyzer Stoddard of Rexburg, Idaho, returns as the featured specialty performer at this year's rodeo. Stoddard, the youngest member of a rodeo family, began by training his first pony to sit, lay down and bow. He began roman riding to win a high school bet and taught himself to trick ride.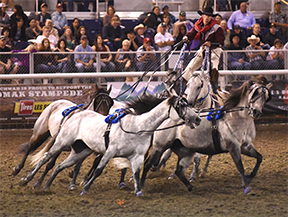 Stoddard, 23, has worked with some of the best trick riders in the business over the past seven years at some of the biggest rodeos in the country. His Roman riding act features Kyzer standing on top of two horses, one foot on each, while he also controls four more horses in front of him.
He takes those six horses at a full gallop through a series of figure eights and over four-foot-high jumps. Stoddard's trick riding, also at a full gallop, includes going under the neck of a horse and back into the saddle on the other side, vaults from the horse to the ground and back, dragging behind or standing on top of the horse and more.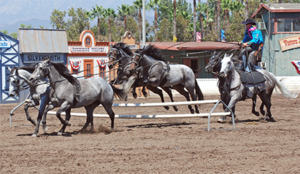 When not performing, he gives riding lessons, trains horses and coaches gymnastics. He also works for Royal Journeys, which is a school for disabled children. Stoddard's animals, several which he rescued from slaughter after being labeled "untrainable", play a big role in helping bring happiness and education to these special children.
Stoddard was seriously injured while performing two years ago and doctors did not think he would ever be able to trick ride again, although he should be able to ride a horse in eight months. Stoddard's determination got him back in the saddle, on the horse he was riding when the accident occurred, within three weeks and not long after that he returned to performing.
He's a great example of what determination, hard work and big dreams can accomplish. "I didn't always have the right equipment," he said. "In fact, I didn't even know what the right equipment was."
But even without the benefit of an experienced teacher, he figured out a way to make his dream come true.
" My mom always told me – it's not about having the best equipment or the prettiest horses, but it's about what you and your animals can show people."